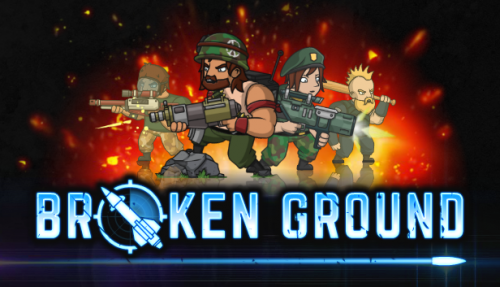 Brought to you by the creators of Bad Eggs Online 1 & 2, Broken Ground, a multiplayer turn-based artillery game. Remember Tank Wars? Scorched Earth? Or Worms? If you enjoyed playing any of those games but want something more modern, you'll want to check it out. The game is available on Steam (Windows and Mac). The game is free with parts of the game unlockable by paying and this is designed to give more enjoyment out of the game, and not at the expense of other players.
Get your shotguns fired up, and your missiles and grenades ready!
"Broken Ground is the game we've wanted to make since childhood. Multiplayer artillery games are the first person shooters of 2D as far as we're concerned, and we've been putting our spin on the genre for the last seven years with games like Bad Eggs Online. We've taken all that knowledge and experience and put it into Broken Ground to make a game that is reminiscent of those childhood classics like Worms while adding our own sense of fun and a strong focus on progression and exploration." – Rob Donkin, Developer, Bad Viking
Features
– Online Multiplayer
– Destructible Terrain
– A huge selection of different weapons.
– Fun and varied maps with hidden secrets.
– Mix and match different game modes.
– Fully customizable outfits.
– Team up with your friends or go solo.
– Challenges with badges to unlock and show off.
– Detailed statistics and competitive leaderboards.
– Developers who are listening to your feedback and updating the game.