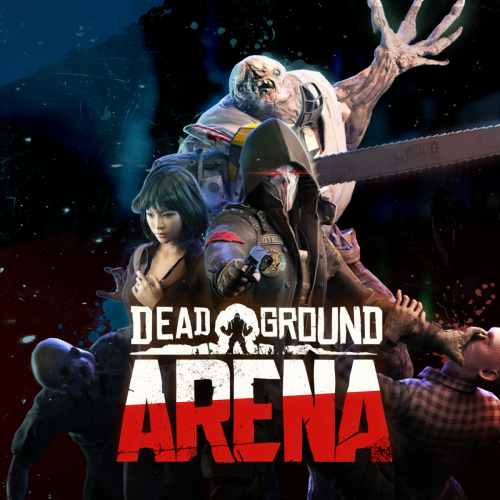 Dead Ground: Arena from Korean developer VRillAR launched on Steam (Windows PC), offering a first glimpse at the upcoming VR-shooter, Dead GroundZ with a showcase of its Arena mode. Owners of the HTC Vive can experience exciting, action-packed fights against up to thirty different types of enemy in an atmospheric environment that brings the threat to life. Players are armed with a broad choice of weapons ranging from a Freeze Ray to grenades so that they may defend themselves against relentless hordes of the undead.
With years of VR-experience, developer VRillAR is branching out to conquer the gaming sector with its first entry onto the scene, Dead Ground: Arena. The ambitious Korean studio has designed an exciting, first-person shooter in a gorgeous Unreal 4 Engine environment that throws the player into an immersive, zombie-infested VR world. As an agent of the secret organisation, Blackrain, players take on a range of missions in which they must fend of unrelenting hordes of enemies. To tackle the challenges of the standalone Arena mode, they are equipped with a broad armoury, ranging from realistic military weapons and grenades to more exotic ones such as a Freeze Ray or the all-time favorite Gravity Gun. VRillAR sets new standards for VR gun handling and provides in Dead Ground: Arena a realistic, threatening world full of zombies.
Dead Ground: Arena is available in English on Steam (Windows PC) as well as via Viveport. An HTC Vive is required to play.
http://store.steampowered.com/app/825500/Dead_GroundArena/
https://www.viveport.com/apps/0d1ce091-e0f0-48a2-bc4b-34a41d664a64
About Dead Ground: Arena
Dead Ground: Arena is an action packed arena mode showcase for the upcoming FPS VR game Dead GroundZ.
Players take on the role of a secret agent for Blackrain, for whom they are sent on a range of challenging missions. To fulfill their objectives, players can choose from twenty different weapons to take down thirty different, horrific enemies. Missions range from protecting hostages and VIPs to fighting your way out of ever-swelling hordes in a confined space. Dead Ground: Arena supports teleport movement through the VR controller and direct player movement and comes with a variety of graphic settings to fit each player's hardware requirements to provide a seamless immersive experience.
Players can choose from a range of  difficulty settings — after completing normal mode, a more challenging experience awaits in veteran mode.
Key Features:
Exciting missions and action-packed gunfights
Fierce battles with the thrill of real life sensations
The highest quality graphics in the VR gaming industry, which are optimized to limit motion sickness
Many diverse maps with more being  added in the coming month
An exciting experience with twenty weapons and striking effects
A variety of weapons, including realistic military weapons and explosives as well as more exotic weapons such as the freezing gun and gravity gun
More than thirty different types of reactive NPC
An in-depth story mode with action packed missions can be experienced in the upcoming title, Dead GroundZ.