Regalia: Of Men and Monarchs – Royal Edition, a playful, vibrant, yet demanding RPG is available for PlayStation 4.
Regalia: Of Men and Monarchs – Royal Edition is an experience inspired by jRPG classics infused with good ol' adventuring. It's a tactical RPG, but it's actually a game about the restoration of your kingdom, bonding with vibrant characters met during your journey, embarking on the most peculiar quests possible, and bringing back your best jRPG moments in an up-to-date, accessible style.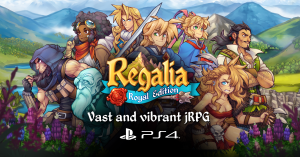 It can also be a game about unforgettable, rewarding encounters and well-thought tactics. What's more, in Regalia you can always tone down the difficulty level or even skip a battle if you can't wait to check what the game has in store for you.
Royal Edition with The Unending Grimoire DLC included
Regalia: Of Men and Monarchs has already made its mark amongst RPG fans during its PC launch, but we're not stopping there. The Royal Edition is an enhanced version of the game that also contains a DLC: The Unending Grimoire, including an endless mode and brand-new characters.
The Grimoire allows players to challenge themselves in randomly generated battles in return for additional visual customization options for the party members. It is divided into chapters, and within the Grimoire all sorts of unexpected combinations can happen.
Fighting within the Grimoire takes no in-game time (they do not advance the calendar) and can be played anytime you want, right from the point when you build the Mystic's Tower for Bassanius.
Traverse through lands of robust turn-based battles, diverse quests and distinct bosses.
Bond with dozens of colorful characters who will help you along your journey.
Tone down the difficulty level or skip battles if you're not in a mood for a fight.
Experience a fair amount of epicness and tons of humor; Samurai dwarves?!
Bring back your best jRPG memories with hours of engaging gameplay.
Face the newly-added endless mode and prove your tactical skills.
Regalia: Of Men and Monarchs – Royal Edition for PlayStation 4, is available on PlayStation 4 in two versions: regular and OST Combo bundle that also includes the game soundtrack by Game Audio Factory (Endless Legend, Furi) and a dynamic theme.