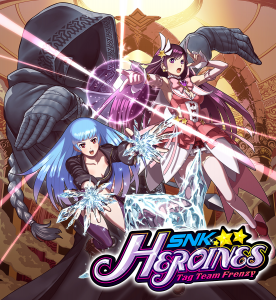 SNK and NIS America announced that SNK HEROINES Tag Team Frenzy will be arriving in North America and Europe on September 7, 2018! The game will be available on Nintendo Switch and PS4 (digital).
In celebration of the release date announcement, we would like to reveal another character from the SNK HEROINES Tag Team Frenzy roster – Shermie!
Shermie is a beautiful and hard-hitting grappler making her graceful return to the ring. Since first appearing in The King of Fighters '97, she has remained a popular pick among players and is ready to take her place as the belle of the brawl with her devastating suplexes and bone-crunching drop kicks! Be careful, because one wrong move and you'll get a taste of her Dream Finish, the Inazuma Leg Lariat!
About the Game:
Play online or with friends as SNK's iconic heroines in the brand-new 2 vs 2 fighting game, SNK HEROINES Tag Team Frenzy! Activate Special Moves with a single button, and make use of special items to change the tide of battle! However, the fight isn't over the moment you've chipped enough health away. Once your opponent is on the ropes, utilize your Dream Finish technique to win the match! Spectate on other battles online, use your winnings to buy voice clips and accessories in an all-new costume system, and customize your favorite heroine to your heart's content!
Key Features:
Assemble Your Heroines and Battle Head-to-Head – A brand new tag battle action fighting game is here! Players can participate in a four player frenzy online or with friends!
An Iconic Cast of SNK's Female Characters! – Choose from a generous roster of female heroines from the SNK universe!
Defeat Foes with Style and Elegance – Coordination is key, as players can choose from up to 100 different accessories for their characters. Accessorize with cat ears, glasses, face paint, and new sound effects.