Developer and publisher Wargaming confirmed that they're working on adding submarines as playable vessels in World of Warships, the premier online naval combat game. Closed testing will begin in a couple of weeks and as usual players participating in the World of Warships Supertest will be the first to try out and provide feedback on the new vehicle class.
The initial test phase will feature four playable submarines representing the US Navy and the German Kriegsmarine. More details about submarine models and their unique features will be revealed at gamescom 2019.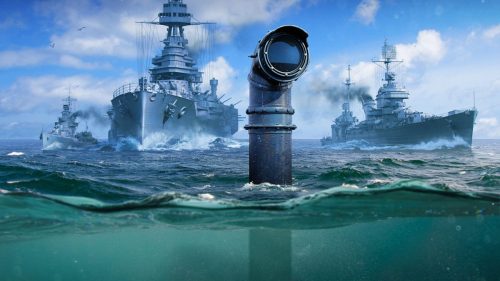 The fundamental nature of naval warfare shifted dramatically with the coming of advanced submarines and the new tactics they introduced. Going below sea level will open a completely new dimension for players, who have been asking for this iconic class of ships since the game was launched in 2015. Right now, World of Warships offers more than 300 historical warships to play with, divided into four different ship classes – destroyers, cruisers, battleships and aircraft carriers.
"World of Warships has continually evolved with new gameplay mechanics, innovative game modes and rich content since its release," said Artur Plociennik, Executive Producer of World of Warships. "The uniqueness of submarines poses very interesting design challenges for our team, which we hope to be able to turn into novel new gameplay tactics for our players and to make online naval combat more exciting than ever before. We are always looking for new ways to make our audience happy and we're aiming to fulfill every player's fantasy of WW2 submarine operations."
About World of Warships
World of Warships is a free, historical, online combat game from Wargaming. Command a massive naval fleet featuring some of history's most iconic war vessels, level up important tech modules and prepare to dominate the oceans in World of Warships.
With four classes of ships, myriad upgrades, and strategically designed environments, the action never ends and every match is a unique experience.
World of Warships brings players endless hours of strategy, tactical gameplay and pulse-pounding combat!
Head over to worldofwarships.eu now to sign up for World of Warships for free.