Numerous summer-inspired events have seen to it that everyone stays cool in Black Desert SEA, and their success has paved the way for more exciting opportunities. While continuing to indulge in ongoing seasonal activities, Adventurers can now participate in a new playtime event that will reward all who spend time under the summer sun in the Black Desert world!
This summer is all about beating the heat, and Adventurers can soak up some extra rewards through a new play time event between August 15-21. During this time, they can receive a Burning Gift Box for every 30 minutes they spend in Black Desert SEA, up to a total of six boxes every day. Those who wish to vie for greater prizes can also look to obtain Premium Burning Gift Boxes and some Black Stones by reaching 240 minutes of playtime daily or by fusing three Burning Gift Boxes together. Many hot items are available in these boxes, so Adventurers are encouraged to take advantage of these waves of rewards!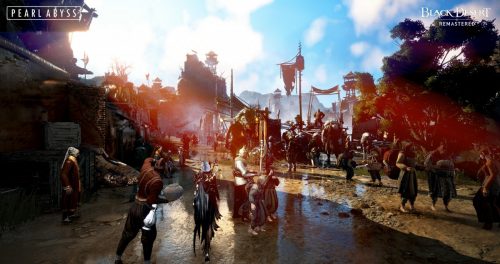 Golden Trout are still visiting the oceans and rivers of Black Desert SEA, so Adventurers can continue to reel them in and sell them to buyers at premium prices until August 28. It seems as though Adventurers are not the only ones to be entranced by the summertime fun at Terrmian Beach—fishers at the beach have confirmed a higher yield of Golden Trout than those in other fishing grounds. Reports are also coming in that Golden Coelacanth have been spotted in these waters as well, and vendors are paying bucketloads of silver for this rare catch. With so many golden opportunities, Adventurers are making sure that this one doesn't drift away!
For more information about this update, visit the official website at sea.playblackdesert.com.
About Black Desert
Black Desert is Pearl Abyss' open-world action MMORPG with cutting-edge visuals and skill-based combat that redefines the genre. With the most developed character customization system of any game currently on the market, users can break out of the norm and make unique characters that truly represent each and every player. Its intuitive controls, beautifully designed world, and extensive lore will excite both newcomers and veterans of MMO games and action RPGs. Pearl Abyss has developed Black Desert for PC, mobile, and console, with the PS4 version scheduled to launch globally in 2019. With over 11 million registered users, Black Desert for PC is available in over 150 countries and in 12 languages. For more information about Black Desert, visit the official site at sea.playblackdesert.com.