Targem Games and Gaijin Entertainment announce the release of the 0.10.90 "Witch Hunt" Content Update for the post apocalyptic Crossout online action game. Wasteland warriors celebrate Halloween by collecting Tricky treats and exchanging them for unique Mexican-style decorations for their armored vehicles. These decorations include tacos, guitars and the feathered dragon Quetzalcoatl.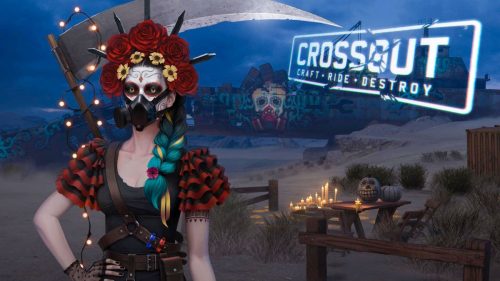 Players that participate in the "Witch Hunt" brawl event use the same pre-assembled weaponless vehicles with boosters.Their goal is to catch and keep festive balloons as long as possible while opponents try to get them back by ramming them. The map is also full of festive skulls that randomly buff or debuff the vehicle: for example they might grant temporary invulnerability or add weapons to the vehicle, or they might slow the vehicle down or attach a ticking bomb to it. Anyway, dying is not that bad while playing Witch Hunt mode, as the number of respawns is unlimited. The best players will get the Witch's Sticker Container with rare cosmetic items and the Tricky treats.
The new thematic "Day of the Dead" pack that includes the unique armoured vehicle "Stalker" is also now available in the game store. According to legends, the "Stalker" belongs to the mysterious Catrina – the ghost that lives in the Wasteland and organizes the Halloween festivities.
"Witch hunt" event and "Day of the Dead" pack will be available in Crossout until November 6th.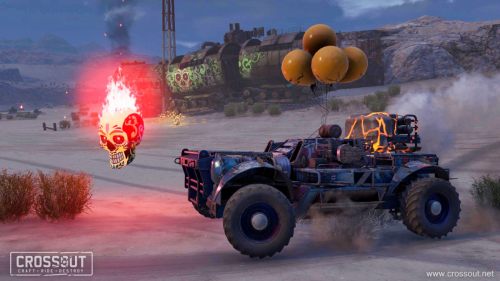 About Crossout
Set in a post-apocalyptic world, Crossout is a Play For Free MMO vehicle combat game available on Windows PC, PlayStation®4 and Xbox One, offering players complete customization in building and upgrading deadly armored vehicles to destroy enemies in open PvP and PvE battles. Crossout gives players thousands of possibilities to design their vehicle, including shape, armor, weapons, support systems and, of course, cosmetic enhancements. Official website: http://crossout.net/