October 11 marks International Day of the Girl, a UN ratified day to celebrate and support girls across the world. War Child UK and its US fundraising partner Children in Conflict are getting in on the action in a big way this year with a number of activations celebrating female protagonists in games & female representation in the gaming industry, while raising vital funds to support the most vulnerable children affected by conflict.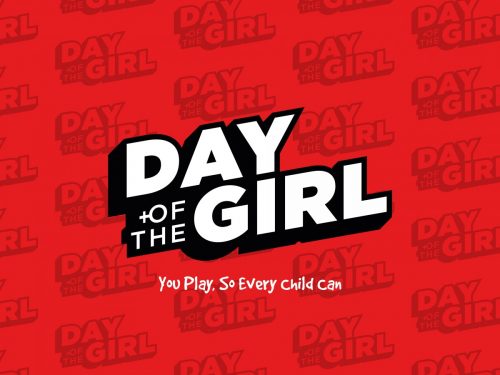 The charity has teamed up with partners throughout the industry to host a number of sales across Steam, Google Play and Chrono.gg, a female-focused industry panel in addition to charity livestreams from Bethesda Softworks, Turtle Rock Studios, OpheliaNoir and Yogscast's Hannah Rutherford.
From 9 – 16 October, Steam will play host to its own Day of The Girl Sale in which critically lauded titles including Heaven's Vault (Inkle), Thief of Thieves: Season One (Rival Games), Ys Origin (XSEED Games), Gone Home (Fullbright), Transistor (Supergiant Games) and others will be discounted, in which a percentage of proceeds will again go to children affected by conflict, more info here: https://bit.ly/2mFxIjb
Android users can head over to Google Play and pick up a number of female-fronted titles from acclaimed creators such as ustwo games, Sam Barlow and Raw Fury at discounted prices – with a percentage of proceeds going directly to War Child UK. A full list of games available during the sale is available at the following link: https://bit.ly/2oLORJe
Chrono.gg has built a custom Day of the Girl digital game store, which will also be raising funds over the week by offering a number of indie titles at a discount and donating a percentage of each game sold; including Iconoclasts (Bifrost Entertainment), Timespinner (Chucklefish) and Tangledeep (Impact Gameworks) and more available here: https://bit.ly/2VbUGMh
A number of studio livestreams from Bethesda Softworks and Turtle Rock Studios alongside community-focused livestreams from OpheliaNoir and Dawnwhisper will be taking place throughout the week, all raising money by playing titles featuring female protagonists. Dates and times for livestreams are as follows…
You can also run your own fundraising livestream by signing up here: https://tiltify.com/war-child-uk/day-of-the-girl
Monday 14 October sees 'Day of the Girl: Getting Girls into Games' panel take place at Salesforce Tower in London. An all-female panel of industry experts will discuss the opportunities and challenges young girls face entering the gaming industry & STEM (science, technology, engineering, and mathematics) fields in the UK and in conflict regions.
Panellists include:
Anisa Sanusi – UI/UX Designer // Hutch Games
Charlie Harris – Senior Producer // SEGA Europe
Jodie Azhar – CEP & Game Director // Teazlecat Games
Enana – Student // War Child UK YAP Member
Hosted by Aoife Wilson – Host & Video Producer // Eurogamer
War Child UK supports children whose lives have been torn apart by war. The specialist gaming team has innovative fundraising partnerships across the PC, console and mobile industries, as well as through streaming and support from the gaming community and to date has brought in a massive $4.3million through gaming. With your support, War Child can reach more girls across the world and give them the childhood they deserve and the support they need.
Full list of games supporting are:
Steam
Heaven's Vault (Inkle) – Donating 50% of developer proceeds
Epistory – Typing Chronicles (Fishing Cactus) – Donating 40% of developer proceeds
Ys Origin (XSEED Games) – Donating 50% of developer proceeds
Thief of Thieves (Rival Games) – Donating 60% of developer proceeds
Smoke & Sacrifice (Curve) – Donating 50% of developer proceeds
ABZÛ (505 Games) – Donating 100% of developer proceeds
Gone Home (Fullbright) – Donating 25% of developer proceeds
Tacoma (Fullbright) – Donating 25% of developer proceeds
AIRHEART (Blindflung Studios) – Donating 50% of developer proceeds
Her Story (Sam Barlow) – Donating 50% of developer proceeds
NAIRI:Tower of Shirin (Hound Picked Games) – Donating 50% of developer proceeds
Bury Me, My Love (Pixel Hunt Games & Plug in Digital) – Donating 50% of developer proceeds
The Next Penelope (Plug in Digital) – Donating 50% of developer proceeds
Transistor (Supergiant Games) – Donating 50% of developer proceeds
WonderBoy (DotEmu) – Donating 30% of developer proceeds
Kathy Rain (Raw Fury) – Donating a fixed $ amount
Dandara (Raw Fury) – Donating a fixed $ amount
Whispers of a Machine (Raw Fury) – Donating a fixed $ amount
Mobile
Monument Valley (ustwo games) – Donating 100% of developer proceeds
Monument Valley 2 (ustwo games) – Donating 100% of developer proceeds
Her Story (Sam Barlow) – Donating 50% of developer proceeds
Kathy Rain (Raw Fury) – Donating a fixed $ amount
Dandara (Raw Fury) – Donating a fixed $ amount
Whispers of a Machine (Raw Fury) – Donating a fixed $ amount
WonderBoy (DotEmu) – Donating 30% of developer proceeds
Bury Me, My Love (Pixel Hunt Games & Plug in Digital) – Donating 50% of developer proceeds
Chrono.gg
Gris (Nomada Studio & Devolver Digital) – Donating 30% of each sale
Praey for the Gods (No Matter Studios) – Donating 37% of each sale
Tangledeep (Impact Gameworks) – Donating 30% of each sale
My Big Sister (Stranga & GrabTheGames) – Donating 65% of each sale
Alwa's Awakening (Elden Pixels) – Donating 37% of each sale
Timespinner (Lunar Ray Games & Chucklefish) – Donating 51% of each sale
Virginia (Variable State & 505 Games) – Donating 22% of each sale
Iconoclasts (Joakim Sandberg & Bifrost Entertainment) – Donating 65% of each sale
Okami HD (CAPCOM) – Donating 22% of each sale
Jotun: Valhalla Edition (Thunder Lotus Games) – Donating 100% of each sale
Sundered (Thunder Lotus Games) – Donating 100% of each sale
For more information about War Child please visit the official website