Pre-orders are now live for Farming Simulator 19 Platinum Edition, the most complete farming experience ever! Alongside the wealth of content available in Farming Simulator 19, turn your game into Platinum with the Platinum Expansion, adding more than 35 vehicles and tools from CLAAS, one of the biggest farming brands in the world. Get the CLAAS Dominator & Torion Pack when you pre-order your Farming Simulator 19 Platinum Edition or Expansion.
Farming Simulator 19 Platinum is available as either the standalone Platinum Edition including base game and extension, or the Platinum Expansion as an upgrade to an existing Farming Simulator 19 version. The base Farming Simulator 19 experience includes two environments, 350 vehicles and tools, dozens of crops and animals to build the farm of your dreams.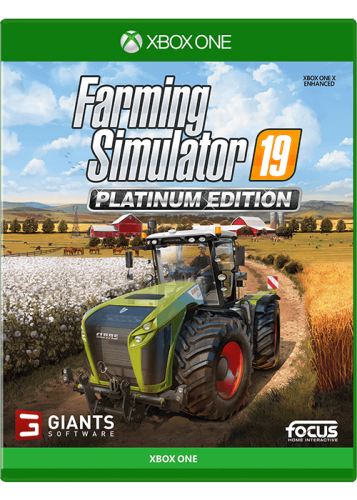 Season Pass owners on PlayStation 4 and Xbox One will be able to download the Platinum Expansion from their consoles as part of the Season Pass. If you are a new PS4 or Xbox One player, you will be able to get the Platinum Expansion as part of the Season Pass, or the Farming Simulator 19 Premium Edition.
Farming Simulator 19 Platinum Edition and Expansion release October 22. Platinum Edition will be available on PlayStation 4, Xbox One, and PC at retail and digitally. Platinum Expansion will be available on all platforms digitally, and at retail for PC. Both games' digital versions are compatible with Mac.  
More About Farming Simulator 19
FARM LIKE NEVER BEFORE!
Includes Farming Simulator 19 + OVER 35 NEW VEHICLES & TOOLS FROM THE BRAND CLAAS
Take on the role of a modern farmer in Farming Simulator 19 Platinum Edition! For the first time in franchise history, discover CLAAS, one of the world's leading farming brands. Enjoy loads of exclusive vehicles to help you to build, develop and expand your farm in two huge environments filled with exciting activities, crops to harvest and animals to tend to.
Drive the biggest roster of authentic farming vehicles ever seen in a Farming Simulator game, with over 380 vehicles and pieces of equipment! Exclusive to the Platinum Edition, over 35 new vehicles and tools from CLAAS, join the other biggest names in the industry – John Deere, Case IH, New Holland, Challenger, Fendt, Massey Ferguson, Valtra, and more.
Harvest all kinds of crops, diversify your activities with forestry, tend to your livestock – pigs, cows, sheep, chickens – and ride your horses. Grow your farm online with other players and download community-created mods for an ever-expanding Farming Simulator experience!
KEY FEATURES
Drive and use over 380 authentic vehicles and tools from over 100 of the biggest manufacturers, including famous brand CLAAS for the first time.
Grow, harvest and sell all kinds of crops – sunflowers, soybeans, wheat, sugarcane, cotton, and many more.
Tend to your livestock including pigs, cows, sheep, chicken, and horses.
Ride your own horses and explore the vast areas offered in huge open European and American maps loaded with farming activities.
Develop your farm online with up to 16 players and enrich your Farming experience with community-created mods on consoles and Windows PC.