XSEED Games have announced that all SENRAN KAGURA: Peach Ball DLC are available for the Nintendo SwitchTM . The DLC sets bring music from fan-favorite SENRAN KAGURA games, outfits, accessories, and diorama poses to the first-ever pinball game in the genre-spanning franchise. The final week of DLC releases completes the SENRAN KAGURA: Peach Ball experience with the Busty Special DLC Set, Outfit Sextet 1, and Outfit Sextet 2.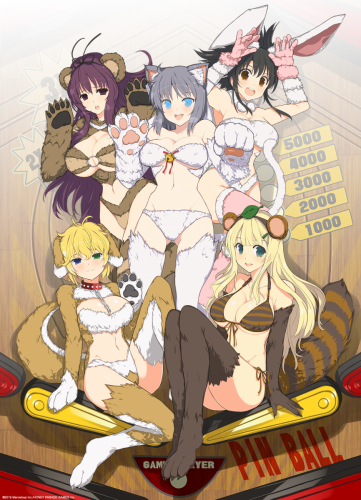 SENRAN KAGURA: Peach Ball Extra Balls (DLC):
The DLC releases end with a slam tilt! The Busty Special DLC Set brings the Secret Haunting Ground Girl and Wonderland Showgirl outfits, with matching Showgirl accessories, two diorama poses, and new Peach Balls for all five shinobi for $14.99. Outfit Sextet 1 and Outfit Sextet 2 round out the final collection at $9.99 each. The BGM DLC packs allow players to use music from previously released SENRAN KAGURA titles, including Deep Crimson, Estival Versus, Peach Beach Splash, and Shinovi Versus, for $4.99 each. Expand the shinobi girls' wardrobe with a quartet of brand-new outfits for $11.99, and with a quintet of new accessories for $2.99. Lastly, explore your artistic side with a set of five never-before-seen diorama poses for $2.99.
SENRAN KAGURA Peach Ball is developed by HONEY∞PARADE GAMES, Inc. and was published by XSEED Games for Nintendo SwitchTM in North America and Europe by Marvelous Europe on July 9. The title is available at select retailers for $39.99. This title is rated "M for Mature" by the ESRB on Nintendo SwitchTM. A Windows PC version is in development for a summer release, with more details to be announced at a later date.