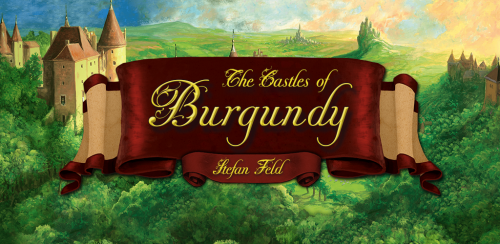 The Castles of Burgundy, a board game for Android and iOS and Steam (Windows, MacOS, Linux), will be released this Thursday (February 28, 2019). The game is a faithful adaptation of the award winning board game by Stefan Feld, first published by Ravensburger in 2011.
If you're not familiar with the game, it's set in the Burgundy region of High Medieval France. The Hundred Years' war is over and the Renaissance is looming. Conditions are perfect for the princes of the Loire Valley to propel their estates to prosperity and prominence. Each player plays an ambitious aristocrat, ruler of a small princedom. Through strategic trading and building, clever planning, and careful thought, players add settlements and castles, practice trade along the river, exploit silver mines, farm livestock to gain influence, wealth and power.
The game can be played by up to 4 players and is family-friendly.
The Castles of Burgundy, developed by Digidiced (Terra Mystica, Patchwork), uses the newest version of the board game rules and is enhanced in a number of ways to take advantage of the digital medium. Players can compete in single-player with three distinct and challenging computer opponents or play against friends in local multiplayer – or even face players from all over the world in online mode. There's an asynchronous game mode with push notifications to enable a relaxed play-style without missing turns. An accessible interactive tutorial makes learning the rules easy but to truly excel players can analyze your best games or learn tricks from the best by watching games of the top players right within the game.