Youmu Konpaku makes her debut as the tenth playable character in the bullet-hell battle game, Touhou Kobuto V: Burst Battle! She will be available for a limited time as free DLC starting from today, November 1, on PlayStation Store (PS4, PS Vita) and November 4 on Nintendo eShop (Nintendo Switch) for 2 weeks only!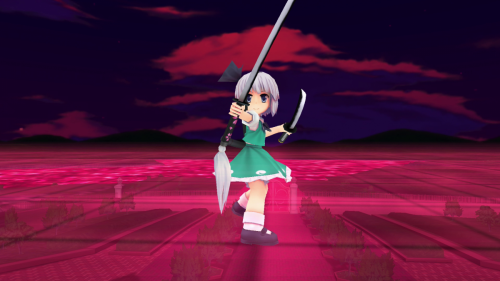 After the 2 week period, this half-human, half-phantom gardener will be available for $2.49 USD. Touhou Kobuto V: Burst Battle is also on sale until November 22!
PlayStation Store: (Up to 80% off for PS+ members!)
About Touhou Kobuto V: Burst Battle
Touhou Kobuto V: Burst Battle is a bullet-hell battle game that takes place in the Touhou universe. Take control of one of nine Touhou characters and eliminate your opponent using bullet-hell patterns, melee attacks, or spell cards! Featuring ear-tingling beats for each character, you might just find yourself dancing while you play.
Uncover the truth behind the strange incidents in Scenario Mode. Each character has her own unique story! Lose yourself in the many background music remixes and enjoy the latest tale taking place in Gensokyo.
Share your high score from Arcade Mode and Score Attack Mode on the PlayStation™Network. Show off your ability against skilled players from around the world.
The game also supports a local split-screen two-player versus mode! And of course, that's in addition to a fully featured online battle mode.