Deep Silver and Paradox team up to bring the award-winning city builder Cities: Skylines back into stores. The Cities: Skylines – Parklife Edition is available exclusively at GameStop for the PlayStation®4 and the Xbox One family of devices including the Xbox One X. Cities: Skylines – Parklife Edition includes the main game featuring all free DLCs and patches as well as the Parklife expansion.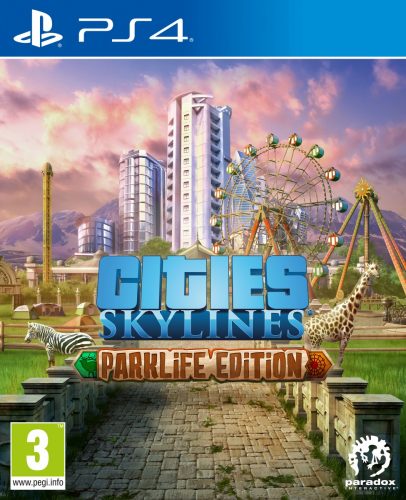 Cities: Skylines is a modern take on classic city simulation. The game introduces new mechanics to realize the thrill and hardships of creating and maintaining a real city, and allows for high levels of customization and personalization. The console editions have been adapted for play with new UI and controls while sacrificing none of the strategy and creativity.
Parklife adds new ways to play with everything from roller coasters and campsites to flower beds, fountains and flamingos. There's also a new park area tool, five new maps, a ton of new assets, and level-up features which increase your park's property values in play.
More leisurely features:
Parks and Recreation: Use the new park area tool to create park districts wherever there is empty land, and new city services like Park Maintenance, which boosts happiness and effectiveness as well as leveling up parks.
Brick by Brick: Customize your city with new buildings and assets, including a new sightseeing bus line, service buildings, and fresh attractions like amusement parks, nature reserves, city parks, and zoos. There's also a regal new monument in the Castle of Lord Chirpwick.
Freeway Free for All: For the first time in Cities: Skylines, you can place buildings next to paths in the park districts (not just next to roads). Props can be placed anywhere inside park areas.
Recesses Between Buildings: Transform those empty spaces between your buildings into vibrant parks and gardens.
It's a Walk in the Park: Customize routes and set ticket prices for new walking and sightseeing tours, among other tourism enhancements.
Policies, Please: Take on three new city policies and eight new park policies to deal with recreational hazards like Fireworks and Animal Ethics.