Lightwood Games is adding a little sparkle to December gaming with a special Christmas-themed demo for Nintendo Switch.
A free trial version of Link-a-Pix Deluxe is available on the Nintendo eShop on Thursday December 12th, and can be downloaded for a limited time ahead of the game's full release on January 2nd.
Link-a-Pix is a clue-linking puzzle, solved by painting lines between clues which have the same color and number. The number shows the length of the line which will connect them.
The Christmas demo offers a preview with four seasonal pictures in different sizes.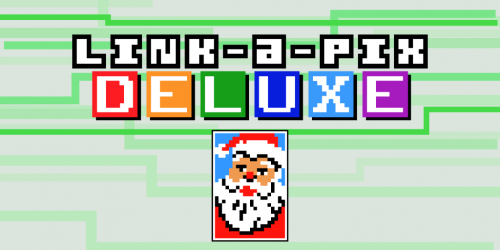 Link-a-Pix Deluxe is Lightwood's fifth game on Nintendo Switch to feature puzzles by Conceptis Ltd, the world's leading supplier of logic puzzles.
It follows previous titles Pic-a-Pix Deluxe and Pic-a-Pix Pieces, which are both color nonogram games; Block-a-Pix Deluxe, a block-painting picture puzzle; and Phil's Epic Fill-a-Pix Adventure, a logic game that plays like cross between picross and minesweeper.
Link-a-Pix Deluxe contains 120 brand new full-color puzzles and 120 unique – and more challenging – mono puzzles, all designed by Conceptis Ltd.
Puzzles previously released as Link-a-Pix Color on Nintendo 3DS family systems will be made available as add-on content, and Lightwood will support Link-a-Pix Deluxe throughout 2020 with new monthly puzzle packs.
Link-a-Pix Deluxe will be available to download on January 2nd, 2020 on the Nintendo eShop.  Pre-orders are now open.
Link-a-Pix Deluxe supports English, French, German and Spanish.