Special Reserve Games announced that pre-order for My Friend Pedro: Switch Reserve Nintendo Switch console system is open through December 5th.  My Friend Pedro: Switch Reserve is the physical version of the original game and includes numerous special additions and collectible items including a life-sized Pedro squeezable banana! This limited edition of My Friend Pedro can only be purchased via the Special Reserve Games' website at www.specialreservegames.com for $34.99.  The game will ship in January 2020.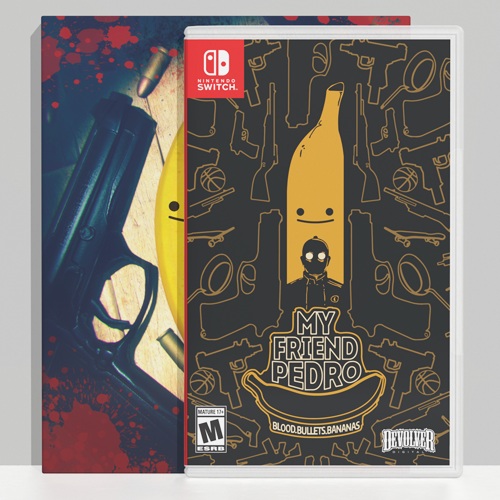 Developed by DeadToast Entertainment, My Friend Pedro is a violent ballet about friendship, imagination, and one man's struggle to obliterate anyone in his path at the behest of a sentient banana. The strategic use of split aiming, slow motion, and the ol' stylish window breach create one sensational action sequence after another in an explosive battle through the violent underworld. The physical game includes all the applauded features and gameplay as the digital version plus the collectible extras.
My Friend Pedro: Switch Reserve features:
•    Exclusive physical Switch cartridge (8GB) that includes all patches and Code Yellow DLC
•    Double-sided jacket art/Sequentially numbered
•    32-page instruction booklet
•    Sticker sheet
•    Collectible product box
•    Six action-packed lenticular cards
•    'Life Size' Pedro – Squeezable 'stress banana'
A 'Switch Single' version of the game can also be pre-ordered and purchased for $29.99 on the Special Reserve Games' web site. This version includes the same exclusive physical Switch cartridge (including Code Yellow DLC) plus a double-sided jacket art/sequentially numbered, the instruction booklet and a sheet of stickers.
"My Friend Pedro: Switch Reserve represents everything we hope to publish as it was developed by a single person that had the vision, skills and dedication to deliver a crazy action-filled game.  This game reminds players that great gameplay continues to come from the amazing independent developers all around the world," said Jeff Smith, Creative Director and CEO, Special Reserve Games.