D3PUBLISHER Inc., a leading Japanese games publisher, announced the global launch of Japanese roguelike dungeon RPG Omega Labyrinth Life on Nintendo SwitchTM and Labyrinth Life on PlayStation®4 computer entertainment system. The games are developed by Matrix Corporation and published by D3PUBLISHER. Both games aim to deliver a lewd, busty, and hardcore roguelike experience utilizing turn-based tactics and growing powers that are bestowed within each maiden's breasts.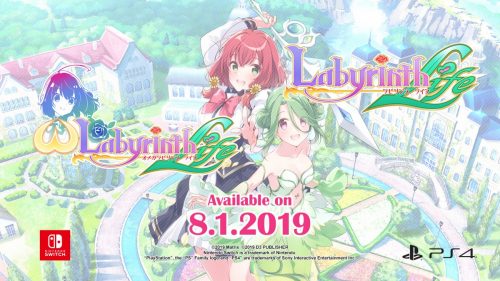 Omega Labyrinth Life and Labyrinth Life feature similar characters, character skills, items, monsters, story plot, dungeon layouts and difficulty settings, but each differ by how they display their sexual content. A list of key differences and comparisons between the two console versions of the game can be found on the game's website in Japanese here.
The story unfolds at Belles Fleurs Academy, a spacious school with a beautiful floral garden that holds a sacred flower of legend known as "Flora," which radiates a mysterious power that is rumored to grant an everlasting bloom effect to the rest of the flowers in the garden. Suddenly, the flowers in the garden wither away when maiden Hinata Akatsuki transfers to the Academy. Now, Hinata along with a new cast of stunning maidens from the academy, go off on an adventure, exploring a sacred dungeon in hopes of returning the garden back to its grandeur, and to fulfill their own hopes and dreams at Belles Fleurs Academy.
Both games bring familiar roguelike Japanese RPG turn-based mechanics like the previous "Omega Labyrinth" series in which maidens can grow their chest size by accumulating the mysterious Omega Power by defeating enemies in a procedurally generated dungeon with the risk of losing all of the player's earned stats, items, and gear upon defeat.
Omega Labyrinth Life and Labyrinth Life key features include:
Tactical turn-based combat: Control and execute strategies between the maidens against various enemies in 2D dungeons
Procedurally generated dungeons: Dungeon layouts and enemy placement are always randomized every playthrough, bursting with loot and challenges
Maiden's dream: Collect Omega Power by defeating enemies to grow maiden's breasts up to Z-Cup
Breast Burst Mode: Activate to double a maiden's stats for a short period of time for tight situations against formidable enemies or enemy hordes
Skill★Bloom System: Unlock new skills, stats, and more with nectars found in the dungeon and academy that will reveal unique illustrations from each maiden
Size up System: Squeeze and rub discovered item drops in dungeons between maiden's breasts to reveal their potential to a maiden's journey
 New Double Breast System: Change between maidens during a dungeon-crawl to utilize various skills and gain a tactical advantage to maneuver around enemies and obstacles
Take a break in Slow Life: Enjoy life outside of fighting and dungeon crawling back at Belles Fleurs Academy by exploring the Garden Academy, chatting with other maidens, and managing the garden's beautiful upkeep for collecting powerups and more