Targem Games and Gaijin Entertainment announce the release of Content Update1.6.4 "Halloween in Space" for Star Conflict, an online free to play space action game. Players will repel random alien raids, destroy enemy bases with pumpkin bombs and, most importantly, for the first time, will be able to take control of the legendary phantom ship.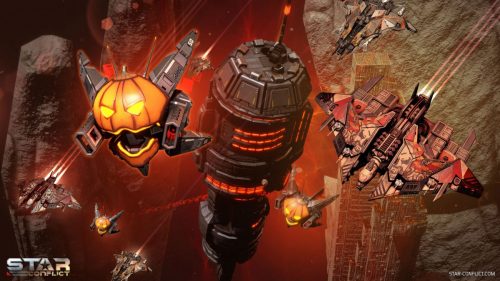 Every year at the end of Earth calendar October a wave of anomalous energy travels across the Universe. During this time, the Black Ghost destroyer appears in our Universe – this is the legendary phantom ship that any captain of an ordinary vessel would not dare to challenge. The Black Ghost destroyer has the ability to temporarily become transparent against shells and lasers while becoming faster and more maneuverable at the same time. This unique ship will be available to owners of the Black Ghost DLC annually while the Halloween event is active.
The anomalous energy also attracts aliens. Spontaneous portal openings and alien attacks are possible during all PvP battles and flights in Open Space. In this case all local disputes should be forgotten and each human ship should rush to repel these attacks together.
The Halloween celebration will last until November 14th in Star Conflict. Throughout this time, players will see a lot of festive content here and there: NPCs in strange costumes, mysterious audio signals, explosive pumpkins and other classic Halloween features brought by the people of Earth into deep space.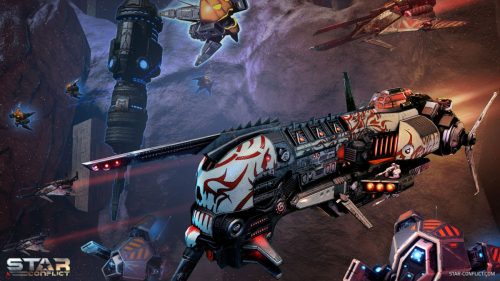 About Star Conflict
Developed by Star Gem Inc, Star Conflict is an action-packed, massively multiplayer space simulation game that puts players in the role of elite pilots engaging in a widespread interplanetary skirmish. The game includes a wide variety of battleships, from light and fast interceptors to powerful fighters and well-defended frigates. Players can choose to go alone or team up with friends to form powerful alliances. The combination of strategic and skill based gameplay in Star Conflict allows players to develop their abilities and establish specialized skills. Official website: http://star-conflict.com/