As the end of year is approaching, now is the perfect time to find something special that will make the year-end more memorable. Adventurers can make in-game donations which will turn into real donations supported by Black Desert SEA. They can also find a pre-event that is taking place to announce the upcoming Succession updates while discovering the new class Guardian, who will be descending from the mountain of endless winter.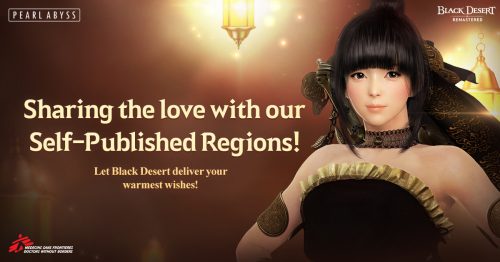 Adventurers can make donations by purchasing Charity Tokens for 1 million silvers. Then, they can use these Tokens of Sharing to get various items via a NPC Lara including a Trio Balloon Headband, 5 Cupid's Halos, and 10 Red Rose Wall Ornaments, which will add 100 interior points. Those who make in-game donations will receive interior furniture items as rewards.
A special pre-event is taking place until January 29, in celebration of the Succession updates for Warrior and Ranger which will be added on December 4. During the event period, a Mysterious Knight will appear randomly in hunting grounds, where Adventurers can get Skill EXP + 100% by simply talking to the Mysterious Knight. The buff effect will last 180 minutes from the time of acquisition and if Adventurers receive the same buff while already receiving the effect, the duration will be renewed.
The new class Guardian is officially coming to Black Desert SEA! Guardian will be descending from the mountain of endless winter to take Ynix, the Holy Flame that can even immolate the gods, to condemn all the gods in this world. More details about Guardian will be announced shortly.
Meanwhile, a special group of Adventurers across the globe joined the G-Star 2019 offline event Pearl Abyss Connect 2019 from November 14 to 17, where they had the opportunity to visit the headquarters of Pearl Abyss. During G-Star 2019, the group visited the Pearl Abyss booth, participated in various events, had traditional Korean dishes, and took a tour of Busan.
Find more information about Black Desert SEA on the official website at sea.playblackdesert.com.
About Black Desert
Black Desert is Pearl Abyss' open-world action MMORPG with cutting-edge visuals and skill-based combat that redefines the genre. With the most developed character customization system of any game currently on the market, users can break out of the norm and make unique characters that truly represent themselves. Its intuitive controls, beautifully designed world, and extensive lore will excite both newcomers and veterans of MMO games and action RPGs.