It is still not late to celebrate the grand launch of upcoming Black Desert Mobile. Adventurers can participate in the special event to allow themselves to experience Black Desert SEA for free while waiting for the mobile version to be globally released later this year. In the meantime, Adventurers can also check out additional events running this week where they can get more items and rewards.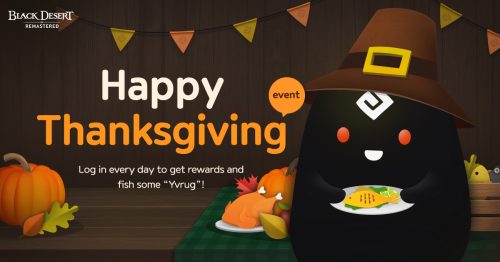 Black Desert SEA continues to collaborate with Black Desert Mobile to run a special event in celebration of the grand launch of the mobile version. Until December 9, Adventurers can get Permanent Access, which can be used to play Black Desert SEA for free, by pre-registering on Black Desert Mobile's official website. More rewards will be provided if they also pre-register or pre-order on Google Play Store or the iOS App Store.
The Fishing Festival is back after a long time! While playing Black Desert SEA for free, Adventurers can go fishing in various locations and get exclusive items. Those who fish in Velia, Heidel, Altinova, Valencia, Grána, and Duvencrune will have a higher chance of getting Yvrugs until November 27. The event will be the perfect opportunity for Adventurers to earn silver as the Yvrugs can be sold to an NPC vendor for 500,000 silver each.
It is time to seek various in-game items in Black Desert SEA. Until November 27, Adventurers can receive various rewards such as Item Collection Increase Scrolls, Sour Cranberry Juice, Sweet Pumpkin Pies, Hearty Grilled Turkeys, and Big Black Feathers by simply logging in and playing Black Desert SEA.
Find more information about Black Desert SEA on the official website at sea.playblackdesert.com.
About Black Desert
Black Desert is Pearl Abyss' open-world action MMORPG with cutting-edge visuals and skill-based combat that redefines the genre. With the most developed character customization system of any game currently on the market, users can break out of the norm and make unique characters that truly represent themselves. Its intuitive controls, beautifully designed world, and extensive lore will excite both newcomers and veterans of MMO games and action RPGs.